Biography

Press Pictures
Poster

Stageplots
| | |
| --- | --- |
| | Download the press reviews 2010 by clicking on it |

Konzertbericht: Hack`n`Roll zum Znacht
---

Zuvor rissen Nicolas Senn und Elias Bernet mit "Hackbrett meets Boogie-Woogie" das ganze Publikum von den Sitzen. (…) Mit Klängen in irrwitzigen Tempi ging das Konzert zu Ende. Das Publikum klatschte stehend mehrere Zugaben heraus.

Thomas Brunnschweiler, Wochenblatt


Blues verbindet Generationen
---

| | |
| --- | --- |
| | Einfühlsam, mit energiegeladenen Soli, harmoniert Elias Bernet mit seinen Mitmusikern und versprüht bluesige Energie. Von Boogie- Woogie bis Soul, egal, ob funkig-swingend, rockig, oder balladesk: Begleitet von seiner leicht rauen Stimme fliegen die Finger des exzellenten Pianisten über die Tasten. |
Brillantes, Pikantes und eine schwarze Perle, 22.11.2012
---

Professioneller Bandsound, perfekt abgestimmte Soli und die virtuosen Tastenkünste ihres Leaders wie einst, gepaart mit der aktuellen Szene lassen den Auftritt zu einem brillanten Feuerwerk auflodern. Alte Hits wie Louis Jordans "Early in the Morning" oder "Blues Ain`t Nothing" von Johnny Copeland wirken mit Elias Bernets verbindlichem Gesang wie neu definiert. Erstaunlich sind auch die vielen Eigenkompositionen im Programm. Da stimmt einfach alles und das Publikum weiss dies zu schätzen (...).
Via Bild gelangt man zum Volltext


weinschenk.de, 19.12.2010
---

coming soon...




Blues in the northwest, United Kingdom
---

ELIAS BERNET BAND
"Life Is A Ball"
(EBB Productions – promo)

[...] To sum up another classy offering from mainland Europe, with the Elias Bernet Band to be added to the ever-increasing blues talent around now – and well worthy of your attention.

Grahame Rhodes






Paris on the move
---

Réalisé en février 2010 en compagnie de quelques invités tels Vera Kaa et Freda Goodlett, notamment, cet opus vous propose treize titres nourris au blues survitaminé où se mêlent soul, funk et boogie-woogie, comme dans ce 'Am I Nuts?' déjanté.

Un opus réalisé sous la houlette du producteur Greg Galli, celui-là même qui travaille avec Marc Sway, Michael von der Heide, Fabienne Louves et Vera Kaa, entre autres.
Autre atout de cet album, les onze compos (sur les treize titres proposés) signées Elias Bernet qui démontrent que le garçon est non seulement un brillant chanteur et joueur de claviers mais aussi un auteur-compositeur de talent. Un mec passablement doué qui fut l'invité du bluesman référence en Suisse, Philipp Fankhauser, c'est dire le potentiel de ce jeune prodige qui a choisi le blues pour s'exprimer et courir le monde.

N'oublions pas non plus de citer le trio qui accompagne Elias Bernet, car composé de bien belles pointures: Dede Felix, batteur mais aussi ingénieur du son, producteur, prof de zik et qui joua avec le Steve Whitney Band, John Parr, Claudia Piano, The Bones and Overhead, c'est dire la réputation du bonhomme qui a rejoint le Elias Bernet Band en 2006.
Second personnage de ce trio, Urs Streckeisen, bassiste qui connait également le succès sur la scène jazz et funk avec son propre groupe, Blizz Rhythmia, et qui joua également avec The Poets, Chillifunk, Traffic Jam et le légendaire Jazzpolice, pour n'en citer que quelques uns, car le bonhomme est présent, tenez-vous bien, sur pas moins de 300 albums. Troisième zicos de ce trio, Manfred Pristas, guitariste pro qui tourne depuis plus de 22 ans et qui gère le site www.manisguitarshop.ch Un gratteux dont le jeu, sur cet opus, ravira tous les amateurs de Chicago Blues comme les fans de belles envolées. Un son Chicago Blues que vient d'ailleurs enluminer sur cet album une section de cuivres particulièrement dense.

Elias Bernet Band: un garçon et un band à suivre de près, surtout qu'ils nous viennent de Suisse. Donc aucune raison pour ne pas aller les voir, surtout si vous êtes proche de la frontière helvétique.

Frankie Bluesy Pfeiffer






Bluesnews Magazine, edition 61
---

Elias Bernet Band - Life is a ball
Dass auch der Eidgenosse durchaus den Blues haben kann, stellt der 25-jährige Keyboarder und Sänger Elias Bernet aus dem schweizerischen St.Gallen auf seinem aktuellen Album "Life is a ball" nachdrücklich unter Beweis. Frisch und dynamisch groovend schallen einem hier dreizehn Tracks aus den Lautsprechern entgegen, die sämtlich im Spannungsfeld von Blues, R&B und Soul angesiedelt sind und zum grössten Teil aus der Feder des Bandleaders und seines Produzenten Greg Galli stammen. Dabei wird Bernets vierköpfige Tourband von einem druckvoll agierenden Bläsersatz sowie den beiden Gastsängerinnen Freda Goodlett und Vera Kaa unterstützt., was dem Bandsound in Sachen Klangfülle und Variationsbreite hörbar zugute kommt. Und dass sich der Schweizer neben seinen kompositorischen und gesanglichen Fähigkeiten darüber hinaus auf den Klaviertasten ebenso behände zu bewegen weiss, wie Comicstrip-Cowboy Lucky Luke den Colt zu ziehen vermag - so ein Vergleich aus einem Konzertbericht des "Walliser Boten" -, kann er natürlich am besten bei dem Boogie-Woogie-Instrumental "High Spirits" unter Beweis stellen.


Coop Zeitung, 23.03.2010
---

Coming soon...




Landbote Winterthur, 23.02.2010
---

coming soon




Zürcher Unterländer
---

Elias Bernets Liebe und Respekt für den Blues sind in jedem Ton spärbar. Am 12. Februar erscheint das neue Album «life is a ball» von der Elias Bernet Band. Dieses überzeugt mit erfrischenden und vielseitigen Songs mit Einflüssen aus Blues, Soul, Funk und Boogie-Woogie. Die Aufnahmen zu diesem Album fanden unter der Regie von Produzent Greg Galli statt, der mit Musikern wie Marc Sway, Michael von der Heide, Fabienne Louves und Vera Kaa zusammenarbeitet. Die meisten Songs stammen aus Elias Bernets und Greg Gallis Feder.
Die CD, die mit der engergiegeladenen Tourband aufgenommen wurde, ist mit fulminanten Bläsersätzen und charismatischen Backing-Vocals und Addlipps von Frea Goodlett angereichert. Den krönenen Abschluss macht ein berührendes Duett Elias Bernet mit Vera Kaa.

Annemarie Chiabotti






St.Galler Nachrichten
---

Der St.Galler elias Bernet schlägt ruhigere töne an. Vom Boogie Woogie hat er sich zum Blues gewendet , da dort die tiefe, die er suchte vorhanden war. und seither macht der den Blues wieder populär. [...]




St.Galler Tagblatt, 2010 January 25th
---

| | |
| --- | --- |
| | Coming soon |
St.Galler Tagblatt, 2010 January 21st
---

| | |
| --- | --- |
| | "I am a seeker" |
Anzeiger, 2010 January 20th
---

| | |
| --- | --- |
| | coming soon |
St.Galler Tagblatt 2008 November 2nd
---

Young, cheeky and dynamic
Coming soon




Walliser Bote, November 10th 2008
---

Blues are nut just . . . Blues
Lucky Luke, the man who shoots faster than his shadow would get jealous without any doubt:No less fast than his gun bullets are in fact Elias Bernets finger on the keys


Anzeiger, 2006 October the 25th
---

| | |
| --- | --- |
| | text coming soon |
St.Galler Tagblatt, 2006 April the 29th
---

| | |
| --- | --- |
| | Elias Bernet and his band attracted a huge audience: The Hotel Sonne in Gossau bursted at the seams. All the tables had to be moved out of the location. […] |
St.Galler Tagblatt, 2006 April the 5th
---

| | |
| --- | --- |
| | An outstanding agile and speedy man, who will be a constant in future: Boogie-Woogie-pianist Elias Bernet thrilled with his skillful playing full of temperament. |
St.Galler Tagblatt, 2006 January the 5th
---

| | |
| --- | --- |
| | Elias Bernet: The 17 years old musician from Saint Gall advanced to the new Swiss Boogie-Woogie-talent from one day to the other. Right in the month of the annual OLMA, SF DRS invited Elias to two big TV-shows. |
Ostschweizer Spiegel mit Charisma, 2005 February the 23rd
---

| | |
| --- | --- |
| | A young musician out of Saint Gall throngs into the noble class of prestigious names: Elias Bernet, student and not yet 21 years old, who awakes interest of even more critical experts with his CD "takin' the path home".(…) Bernet's love and fascination for the boogie and the blues are compressed on this CD, which Elias produced on his own, as well as 10 of 11 songs were written by himself. A successful demonstration without exception for Elias' astonishingly mature playing-skills and for his classy band, composed of groovy saxophonist Peter Lenzin, guitar-wizard Manfred Pristas, solid bassplayer Roland Christen and daydreamingly relaxed drummer Massimo Buonanno. |
St.Galler Tagblatt, December 14th 2004
---

| | |
| --- | --- |
| | He's only 20 years old but already a genuine master of the keys. This musician presented a program full of contrasts: With speedy fingers he paired bluesy melancholy with boogie-woogie songs full of the joys of life. Playing with both hands, elbows or feet, standing in front or behind the piano: no positioning stops this up-and-coming piano-dervish. And after playing the bluesharp he visited the delighted crowd face to face by taking a walk through the hall and over the tables. |
St.Galler Tagblatt, August 28th 2003
---

| | |
| --- | --- |
| | Already the repeated listening of his newest CD "takin the path home" silences the scepticism. Elias Bernet wrote and arranged 10 of 11 songs on his own. The spectra leads from pure solotracks to difficultly arranged band songs, from the boogie of the early days to newly complex blues. On his debut, Elias demonstrates outstanding musicality, almost frightening precision and the courage to enrich his CD with the "crème de la crème" of the eastern-swiss music scene. (…) |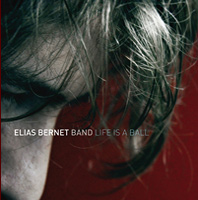 ---
NEWSLETTER